Signal transduction: In the right place, at the right time
Cells integrate internal and external stimuli through complex signaling pathways in order to adapt to changing environments. In particular, cells must know when to grow and when not to. In the phosphoinositide 3-kinase (PI3K) pathway downstream of growth factors, Sgk3 is activated by the signaling lipid PI3P, but the precise mechanism of its activation is unknown. In work published in the Journal of Biological Chemistry, the lab of Thomas Leonard has discovered that Sgk3 is locally activated on membranes by PI3P. In the absence of PI3P, its membrane binding domain maintains Sgk3 in an inactive conformation. Since Sgk3 is upregulated in some cancers, its autoinhibited conformation represents a novel therapeutic target.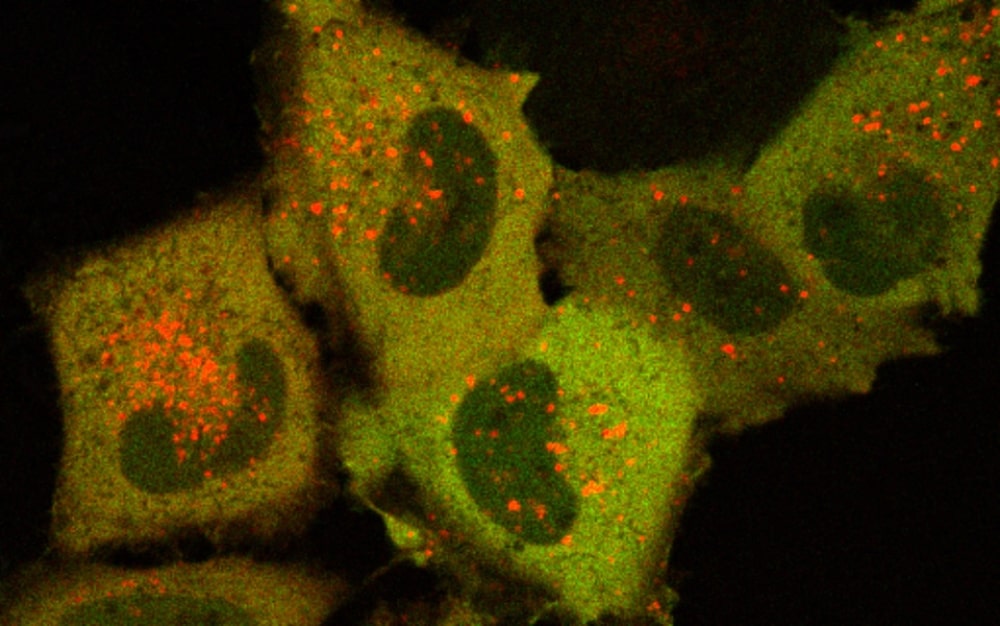 Lipid membranes not only delineate the outer boundaries of the cell; they also provide an effective way to compartmentalize biological reactions inside of cells. But membranes are far from being only passive barriers. They are highly dynamic signaling hotspots on which multiple pathways controlling cell physiology converge. The PI3K pathway is involved in cell growth, metabolism, and proliferation, and is frequently dysregulated in cancer. One particular signal transducer in the pathway is the serum and glucocorticoid-regulated protein kinase 3 (Sgk3), which is activated by the phospholipid phosphatidylinositol 3-phosphate (PI3P) generated downstream of growth factor signaling. Sgk3 has two domains – a lipid binding domain and a kinase domain that propagates the signal by phosphorylating an array of molecules that implement the appropriate change in cell behavior, called effector molecules. "PI3P has previously been thought of as a molecular anchor that simply ensures the correct localization of the kinase", says first author Daniel Pokorny, who pursues his PhD studies in the group of Thomas Leonard. "Our findings add an additional role of this lipid in that it directly stimulates the kinase activity of Sgk3".
The scientists reconstituted the activation of Sgk3 in real-time on synthetic membranes. They found that the two domains of Sgk3 communicate with each other. In the absence of PI3P, its PI3P-binding domain maintains the kinase domain in an inhibitory conformation. The scientists discovered that the PI3P binding pocket is inaccessible in this conformation, which raises the threshold PI3P concentration required to activate Sgk3. These findings have obvious consequences for the spatiotemporal activation of Sgk3. It was previously assumed that the active conformation of kinases such as Akt and Sgk3 must dissociate from the membrane in order to encounter and phosphorylate their targets. "The problem with this model is that it essentially uncouples kinase activity from the activating stimulus", explains group leader Thomas Leonard. "Our work shows that Sgk3 still needs to be bound to PI3P in order for the kinase to actually propagate the signal".
Sgk3 has been observed to be upregulated in some cancers that exhibit paradoxical hypoactivation of Akt. While its potential role in cancer makes it an attractive therapeutic target, developing highly specific kinase inhibitors has historically been quite challenging, since the ATP-binding pocket is highly conserved in all protein kinases. The scientists' findings could help overcome this specificity problem for Sgk3. "The intramolecular interface between the two domains is unique to Sgk3", says lead author Daniel Pokorny. "The interface is therefore a potential therapeutic target for allosteric inhibitors that would lock this kinase in a closed, inactive conformation by binding to the interface".